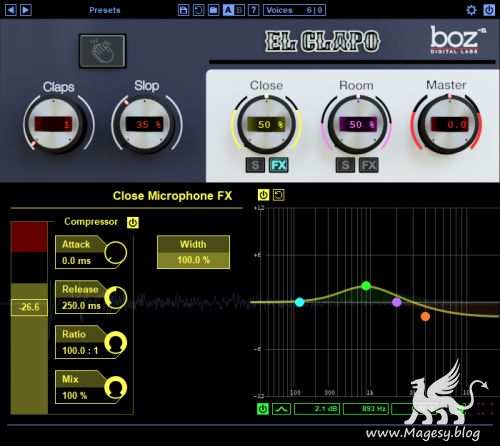 El Clapo v1.1.5 WiN
JustFun598 | 01 May 2021 | 63.3 MB
Windows (32/64): VST2/VST3
El Clapo gives you realistic clap tracks of any group size from a single clapper to an entire crowd.
Realistic Claps
You determine the group size. You determine how sloppy they are. You control the microphone mix. We sampled multiple clappers at multiple layers and a bunch of round robins, from 3 different mic perspectives. The result is natural sounding claps no matter how large the crowd.
Built in Step Sequencer
Control with MIDI or the built in step sequencer that lets you automate between 12 user created patterns.
Compatibility:
– Windows XP or higher
INFO/DEMO/BUY: https://mage.si/R982
El Clapo v1.1.5 VST2 VST3 x86 x64 WiN
http://beelink.in/46692/El-Clapo-v1.1.5-VST2-VST3-WiN/