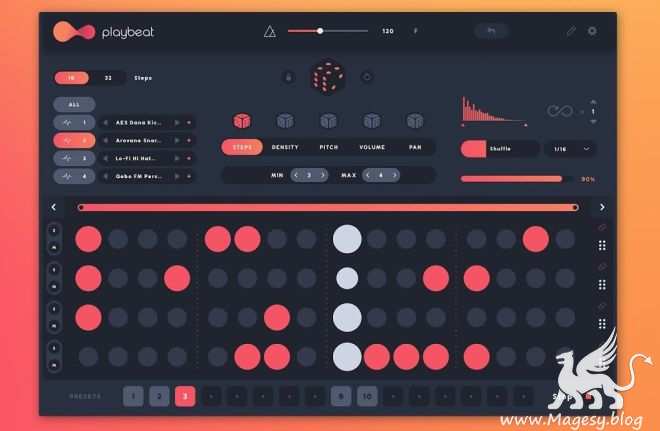 Playbeat v2.3.3 WiN MAC
Team FLARE | 11 April 2021 | WiN: 18.1 MB | MAC: 23.8 MB
..:: AU, VST2, VST3, AAX, x86, x64 ::..

What is Playbeat? Playbeat is a Creative Groove Randomizer plugin that generates beats and patterns for you. Unlike an ordinary step sequencer, Playbeat creates patterns using algorithmic and random procedures for generating notes by combining Steps, Pitch, Volume and more. Your Sounds Load, or drag-n-drop your own sounds and Generate up to four patterns simultaneously to get Polyrhythms. Its unique approach to pattern creation is sure to have you finding exciting new grooves, rhythms and beats.
Features:
• VST/VST3/AU/AAX/iOS & Standalone
• Generate Random Grooves
• Syncs to Host tempo
• Infinity Mode for Each Channel
• Number of notes generated
• Advanced Probability Engine
• Load or Drag -n- Drop any Sample
• MIDI Controllable
• x64 & x32 bit Compatible
• Quick Load Preset Section
• Quantization settings
• Quick-Copy to Channel
• Customizable Sequence Range
• Assign Presets to Quick-Load Section
• No Two Patterns will Ever be the Same
• The only Plugin available of its Kind!
What's new in version 2.0?
• New Density feature for complex patterns
• New Pan feature
• New Sequencer selector (16/32 Steps)
• Save/Export/Share MIDI file
• New factory Sounds from AES Dana, Arovane and more..
• Updated UI + various performance improvements
Newest Release
v2.3.3 – 24 March 2021
• Drag/Export Audio
• Create, Save & Load Custom Kits
• Combined MIDI Output
• New Density Feature (Randomizable)
• New Pan Feature (Randomizable)
• New Sequencer length selector (16/32 Steps)
• New factory sounds from AES Dana, Arovane and more..
• Save/Export/Share MIDI file
• Solo/Mute works for MIDI output
• Updated fully resizable UI
• Various Performance Improvements
Big Thanks to Team R2R for providing us their custom Windows installer script!
INFO/DEMO/BUY: https://mage.si/cx1Y
Playbeat v2.3.3 WiN MAC-FLARE
http://beelink.in/46524/Playbeat-v2.3.3-WiN-MAC/